Discover more from Problematic
I write about God now. In 2020 I was labeled Problematic, and started this substack. Now I'm even further off the deep end, talking about Jesus and stuff.
Over 21,000 subscribers
Jesus 101: How to Start Your Own Jesus Situation
Curious? Resistant? Unsure? Triggered? Here is Where to Start
Welcome to Jesus 101. Well… more like "here is where I started my journey." Take it or leave it.
As you may know… I've been writing about my Jesus Situation (aka, my slow conversion to Christianity) on substack and instagram. Despite my judgment. Despite my hesitance. Despite my aversion, I was drawn. And I now believe.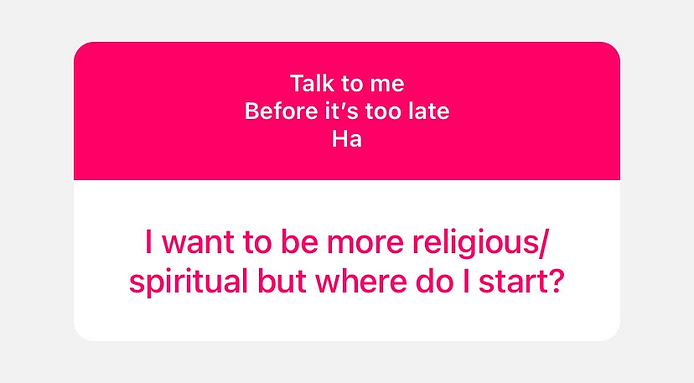 Every now and again, people will tell me they too are feeling a pull, and don't know where to start. I usually answer with a story post on instagram, giving a list of places to start —
But now I'm going to put it all in one post, so I can keep referring back to it, and linking people to it.
As you know… I was "spiritual" and now I have a new view on it all, so, obviously, that is the angle I am going to be using, when giving you advice on "where to start."
-
First, before I even get into my list, if you are new here, and have no idea why I switched from New Age/ Spiritual-But-Not-Religious / Kinda Witchy to Jesus? Read New Age Demons:
Ok, now that you have that context, which is really the story behind my journey, here is the list of places to start.
-
This is not an exhaustive list at all, just all the places I started, that made the biggest difference for me. It made it click and come together.
Pray. In no particular way. Talk to God. The most important thing, is that you develop a relationship with God, your creator. Ask for wisdom. Ask for clarity. Ask to know God. Ask for help surrendering and believing. Ask whatever you won't. You don't have to be perfect or happy or good at praying. Just pray. Get in the habit. If you don't "hear anything" or "feel anything," just keep doing it.

Listen to Jesus testimonies. As I've mentioned many times before, "Jesus" was very triggering to me. I didn't get it. I didn't like it. But it was the personal stories people told, that hooked me. They are all over youtube. Google them. Watch them. If you don't like one, try another. I have a few on my podcast you can listen to. I feel like listening to these stories showed me loving the character of God, who pursues us and forgives us over and over and over, no matter how far we stray.

Read the Gospels. Start with any of the 4 Gospels at the start of the New Testament. Many people recommend reading John first (The Gospel of John, not the Letter written by John). I started with Mark. But just start. When things are confusing, do some research to explain wtf you are reading. Getting the context helps a lot.

NT Research. Do some research to help affirm that the New Testament is a reliable document, filled with reliable eye witness accounts. I read The Case for Christ (by a journalist who went from atheist to believer the more he researched the new testament). You can also read Cold Case Christianity (written by a formerly atheist detective who looks at the Gospels as eye witness testimonies and explains why he now thinks they are legit.) A quicker resource (an hour listen) is this podcast episode that I recently listened to.

Watch The Chosen. Is it essential? No. Is it dramatized? Yes. Does it bring the Bible to life in a way that actually made it exciting and made me want to read it more? Yes.

Listen to Tim Keller's sermons. Is he the best/only pastor who gives good, intellectual sermons that actually make it all make sense? No, but he is one of the best I've heard. "Gospel in Life" -they have a podcast. They have an app. I've never regretted listening to one.

The Bible Project has other great resources on the Bible… free. Beautifully animated, on youtube.

Some people get mad at me for not saying "find a church" but… I think that's obvious. You'll find a church when you are ready to find community. I don't think that's often the first thing people are drawn to do in the curiosity process. I'd recommend visiting different churches, doing research on what makes certain denominations different from others, being on the look out for signs of cultiness and authoritarianism in the church leaderships… etc. There are lots of great churches out there. There are lots of not so great ones too.

Start to look for the contrast between the trendy new age/witchy/gnosis of today (where we are seeking special knowledge, and elevating ourselves to God-status - "do as thou wilt") and the beauty of surrendering to a loving and Holy God and creator (thy will be done.) I try to explain this a bit in New Age Demons…

I will add to this list as I remember things, or as new things come up…
Other miscellaneous ideas and things I did that jump started my journey…
-I took my time. I was very wary of everything. I did not want to be rushed. And I'm glad.
-Was researching free masonry and elite secrete society religions, and how they all oppose Christianity
-Realizing I'd been involved in vague witchcraft for 15 years that had opened me up to dark stuff
-I listened to Blurry Creatures, the podcast. Not religiously. I don't "agree with" every guest, but it's an interesting look into the supernatural/alien/demonic, from a "biblical" perspective.
-People keep telling me to read Mere Christianity by CS Lewis. I haven't done it yet, but I'm putting it here in case it's helpful.
—
Ok! Hope this helps. I'll keep adding to this and definitely link to it often.
And if you want to join the Bible Study that will be starting with the Gospels on October 1st, all details are here: